6 minute read ·
You should buy this guy's book about compliance training; here's why.
Ricardo Pellafone
As a Broadcat Blog Reader (TM), we can safely assume two things about you.
First, you are very handsome and probably smell like cinnamon. And second, and more on point, you think most books on compliance are what the French refer to as "bad," which is why you like our very different take on things.
And like, same.
We have at least two compliance books in our office library that I angrily discarded on the basis that they were "full of lies" or "NO" after realizing that they were so sloppily edited that they made the topic even more confusing. In particular, there is a Stark Law book floating around our office that promised to simplify the topic but was written in a language where "simplify" must translate to "oh no not the bees."

So when we have the opportunity to recommend something to you, we get very excited about it because it does not happen often. We've recommended books on behavioral ethics and adult learning in the past, and now we're recommending Fully Compliant by Travis Waugh.
You can get the entire first chapter of his book, FOR FREE, here.
I read it and then reached out to him on LinkedIn, and he was like "that's so funny, one of the people who reviewed my book was like 'you should talk to the people at Broadcat.'"
No joke:
The conversation continues but it's basically "NO WAY YOU LIKE MARIO KART I LIKE MARIO KART NEW BEST FRIENDS!" because I am a 38-year-old seventh grader and that's how I make friends.
(And if you ever wondered if I use all-caps outside of this blog, yes, and this is also exactly how I talk.)
ANYWAY!
Why we're recommending this.
The reason I'm psyched about this is because we've been ringing this bell for years, and to be frank, Learning & Development teams have often been a roadblock to that.
That is, we've worked with compliance people who are very excited to simplify and be more business-focused, but then they bring in an L&D person who says everything has to be in virtual reality or augmented Pokemon Go! technology ... because that's the tool that was featured at their last L&D conference.
It's like asking your neighbor for help clearing some shrubs and having them say they will only help you if they are allowed to use their flamethrower, because they have convinced themselves "all problems are flamethrower problems" after going to FlamethrowerCon 2019.
And here is Travis, a popular speaker on the L&D circuit, in a book published by the Association for Talent Development, blowing all that up and telling people to focus on problems and not tools.
This is a big deal. If you've been on board with our philosophy but HR or L&D has been a roadblock, buy this book and drop it on the desk of the person who's standing in your way—because they'll listen to Travis as one of their own. It's one thing if the bratty cat compliance person says it; it's another thing if another L&D person says it.
You can go buy the book here, and like, go do it.
If you need more convincing, Travis and his very cool publisher have allowed us to publish a bunch more quotes that walk you through the book, and Travis gave us some insight into how it's all framed up too.
But we'll get to that. First, here are...
My three favorite parts from Fully Compliant.
One of the things I really like about Fully Compliant is that it is written in a helpful, empathetic, and supportive tone while also being pretty direct about calling out compliance training garbage for what it is.
Like, for example, this part:
Hahaha, yes. Also this one:
I've talked to Travis on the phone and he is a super nice guy, so I'm not even sure if these were intended to be these sick, but I basically read this book like: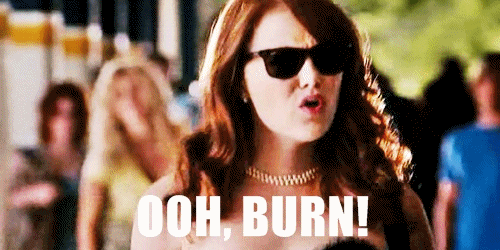 (We've been getting a lot of mileage out of Giphy lately.)
One final part I want to personally highlight:
I love this part because (1) it unsparingly calls out the "annual compliance training window" as a "terrible way to spread a message" and (2) these three things he recommends are exactly what we do, and it's super refreshing to see that recognized (and you should join Compliance Design Club so you can get it).
OK, now on TO THE BLOCK QUOTES!
A walk through Fully Compliant: Compliance Training to Change Behavior.
To start off, here's how Travis frames up the problems with current compliance training in the opening chapter of the book.
By skipping out on behavioral analysis, design, and evaluation, quick and cheap compliance courses have been successful only at mitigating risk after misconduct occurs. If we want to deliver the kind of value that justifies the continued existence of learning and development, we have to build learning experiences that change real behavior, helping our compliance officers avoid risk by diminishing the chance of misconduct in the first place.
After that, Travis weaves together research in adult learning and behavioral economics—subjects close to our cold, black hearts—and ties it to the business value that traditional compliance training can deliver. Here's how he summarizes the purpose of the book:
Ultimately, the aim of this book is to achieve a balance between the letter of the law and its spirit, between the sensible protections of good regulations and the free agency of our employees, between our commitment to ethical conduct and our drive to succeed in our core business, whatever it may be. Great compliance training can serve all these needs at once, and it must. When we learn to strike the perfect balance between the law and our learners—as outlined in the following chapters—we can start to make a real difference.
He then walks you through how to figure out what your needs are. This is not "we need compliance training," but the actual behavioral needs of the business. He introduces a unique approach to launching new compliance training projects, which Travis calls "opportunistic analysis":
To fix compliance training, we need to quit thinking of a compliance subject's mandates as the outline of what its training must be. Instead, these constraints should be seen as a border. Our courses or tutorials must stay within these borders to ensure our core responsibilities are met, but we are free to draw whatever shape we'd like inside.
But this is what's particularly awesome: not only does Travis explain this, but YOU GET FREE STUFF.
Specifically, a two-page Compliance Training Analysis Form that can be used to identify both the legal constraints of each compliance subject and the best opportunities for real learning within. Plus you get a roadmap for incorporating the perspectives of both average employees and senior leaders in this analysis.
After helping you figure out your real needs, Travis unpacks a model for impacting decision-making, framed around the levers of context, habit, and intrinsic motivation. But—and I love this almost as much I love that we get to name-check Dostoevsky right after we name-checked Kafka in our last post—this isn't a cure-all, because he's on Team No Easy Answers:
In the novel The Idiot, Fyodor Dostoevsky (1868) reminds us that "the causes of human actions are usually immeasurably more complex and varied than our subsequent explanations of them."

Research in behavioral economics, choice architecture, and persuasive design has boomed in recent decades, generating daily epiphanies that further illuminate the once dark and mysterious origins of behavior. However, any attempt to simplify human nature is likely prone to oversimplification.

Whatever the latest self-help headlines or pseudoscience text books may tell you, human beings remain, above all else, complicated. If we embrace the inherent complexity of behavior, we can still draw useful conclusions. We don't need to understand every aspect of every choice to help influence those choices, and we don't need to reduce our notion of humanity to a species of mindless, reactionary automatons to make some reliable predictions about how most humans will respond to most situations or how learning might be able to influence those responses.
Then you get practical tips on topics like embedded system training, social and mobile learning, adaptive learning, multimedia storytelling, problem-based learning, and a host of other hot trends in instructional design. But Travis is agnostic on tools—he just wants employees solve real problems and improve real outcomes, measurably—so he tells you to use whatever works.
Travis brings you back to the meat of it all: measurement and implementation. (And you know how we feel about measurement.)
He stresses that the point is to set up a system where you are constantly measuring things, because that's the real goal here—a compliance program is a systematic way to monitor, evaluate, and drive employee behavior, not just a bunch of random activities. And that means that it's OK if one thing you try doesn't work, because the value is in the system, not the variable:
When asked how he persevered through so many failed trials while inventing the light bulb, Edison was confused by the question. "I didn't fail," he replied simply. "I figured out 10,000 ways not to build a light bulb." Failure, if viewed correctly, is nothing more than another step on the path to success. If you measure the effectiveness of your training programs and discover that they aren't really making a difference, congratulations! You just eliminated one solution that won't work, and took an important step closer to the solution that will.
Big picture, I love Travis' brutal honesty about the promise—and limitations—of training. We've called this the "jackhammer analogy," and here's how Travis makes the same point:
While it's true that learning and development may not be able to solve every compliance problem on its own, it remains one of the few available tools that any organization has to influence its employees' behavior. If we are going to achieve our organizational goals and our compliance mandates, we are going to need good training to play a role.
Yup. Good stuff.
Don't be like the bees. GO BUY IT.